LES VINS /
BLANCS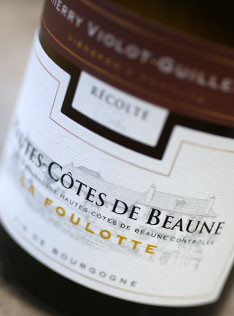 HAUTES-CÔTES DE BEAUNE "La Foulotte"
Vineyard on a hillside in the Hautes Côtes de Beaune appellation, 100% chardonnay.
This plot of 1.2 acres is found on a small hilltop bordering the Pommard appellation. The vines benefit from daily sun from dawn till dusk.
White marl soil – perfect for Chardonnay.
In use since the Middle Ages, this plot of land produced white wines for the dukes of Burgundy.
Cépage : Chardonnay
Âge moyen de la vigne : 20 years
Surface : 1.2 acres
Vinification :

No sulphite is used during harvest so the alcoholic fermentation process, which takes place without the addition of yeast, is not tampered with. Just after alcoholic fermentation, the grapes are inoculated with lactic bacteria to begin the malolactic fermentation process.

Élevage : maturing in barrels for about 11 months
Mise en bouteilles : Estate bottled. Fined (where protein haze is active) and earth filtered. Level of SO2: 25 to 30 mg/l of free SO2 and 70 to 90 mg/l of total SO2