LES VINS /
BLANCS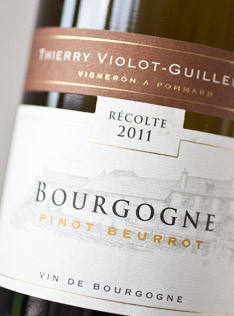 PINOT BEURROT
The "Pinot Beurrot" is an old Burgundy grape variety descending from the pinot gris and rarely used these days.
You can sometimes find a few "Beurrot" vine stocks in the middle of old Chardonnay or Pinot vineyards that winegrowers used to plant to bring richness to the wine.
The vineyard is in the Burgundy appellation, planted on Pommard land.
Shallow clay soil on gravel.
Organic (not certified) since 1999. In the process of being certified by QUALITE FRANCE.
Cépage : Pinot gris also known as Beurrot
Âge moyen de la vigne : Vineyard planted in 1997
Surface : 0.5 acres
Vinification :

No sulphite is used during harvest so the alcoholic fermentation process, which takes place without the addition of yeast, is not tampered with. Just after alcoholic fermentation, the grapes are inoculated with lactic bacteria to begin the malolactic fermentation process.

Élevage : SO2 addition at 18cl/hl and maturing in barrels for about 11 months
Mise en bouteilles : Estate bottled. Fined (where protein haze is active) and earth filtered. Level of SO2: 25 to 30 mg/l of free SO2 and 90 to 100 mg/l of total SO2