LES VINS /
ROUGES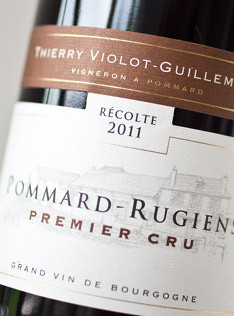 POMMARD Premier Cru "Rugiens"
The ultimate Pommard wine!
The terroir produces a strong and robust wine, yet this can be controlled by moderating destemming and crushing during vinification. "Rugiens" wines are often more colourful than other premier crus, and have a lasting finish, much like "Epenotes" wines. Two unmistakably great wines.
Cépage : Pinot Noir
Âge moyen de la vigne : 65 years
Surface : 1.1 acres
Vinification :

As harvest is starting earlier each year due to climate change, it is often necessary to carry out a pre-fermentation cold soak for 5-6 days. Then fermentation occurs in wooden vats for about 10 days where temperatures can rise to 32-34°C. Next maceration takes place for a few days until the temperature in the vats lowers to 20-22°C. Pneumatic pressing, 2 days of settling, and then placing into barrels for 14 to 18 months (50% of the oak barrels are new with 4 years of drying and 50% have been used once).

Élevage : In oak barrels.
Mise en bouteilles : Level of SO2: 20 mg/l of free SO2 and 60 to 70 mg/l of total SO2.