LES VINS /
BLANCS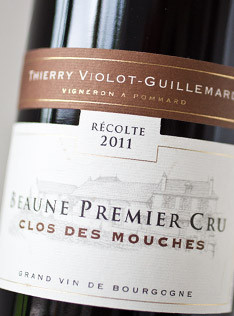 BEAUNE 1er Cru "Clos des Mouches"
One of the most famous plots of the Beaune Appellation, producing a very limited quantity of grapes hence the rarity of this white wine.
The plot is named after the beehives installed by the monks of Cîteaux Abbey. The bees were once called "Les Mouches à miel" (Honey flies).
The vineyard is very young and yield control is required. The mineral side of this wine can be tasted, with the same finish as the red.
Cépage : Chardonnay
Âge moyen de la vigne : 6 years
Surface : 0.5 acres
Vinification :

No sulphite is used during harvest so the alcoholic fermentation process, which takes place without the addition of yeast, is not tampered with. Just after alcoholic fermentation, the grapes are inoculated with lactic bacteria to begin the malolactic fermentation process.

Élevage : SO2 addition at 18cl/hl and maturing in barrels for about 11 months
Mise en bouteilles : Estate bottled. Fined (where protein haze is active) and earth filtered. Level of SO2: 25 to 30 mg/l of free SO2 and 90 to 100 mg/l of total SO2