LES VINS /
ROUGES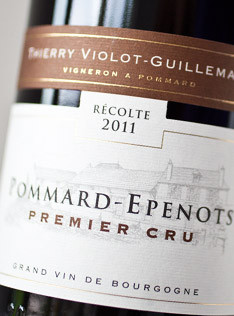 POMMARD 1er Cru "Epenots"
One of the two most well known plots in Pommard, together with the "Rugiens". These two wines will most possibly soon attain the status of grand cru.
The "Epenots" vineyard is situated at the bottom of the hills and faces south-east.
My type of vinification brings out the delicacy of the pinot grape variety and plays down the powerful side of Pommard wines. This wine has a lasting finish, and goes perfectly with red meat, meat in rich sauces and strong cheeses.
Cépage : Pinot Noir
Âge moyen de la vigne : 70 years
Surface : 0,62 ares
Vinification :

As harvest is starting earlier each year due to climate change, it is often necessary to carry out a pre-fermentation cold soak for 5-6 days. Then fermentation occurs in wooden vats for about 10 days where temperatures can rise to 32-34°C. Next maceration takes place for a few days until the temperature in the vats lowers to 20-22°C. Pneumatic pressing, 2 days of settling, and then placing into barrels for 14 to 18 months (50% of the oak barrels are new with 4 years of drying and 50% have been used once).

Élevage : In oak barrels.
Mise en bouteilles : Level of SO2: 20 mg/l of free SO2 and 60 to 70 mg/l of total SO2