LES VINS /
ROUGES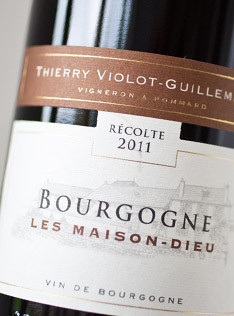 BOURGOGNE "Les Maisons-Dieu"
The name Maison-Dieu is tied to the existence of a building that housed pilgrims en route to Santiago de Compostela and acted as a hospice that cared for the sick. The house was abandoned in the 17th century due to its similarity to the Hospices de Beaune.
This vineyard is in the Bourgogne appellation and is planted on Pommard land.
It is planted on the edge of the Pommard Village appellation, and was sold as a "Pommard" wine until 1937-1938, when wine started to be classified into regional, village, premier cru and grand cru appellations.
Organic (not certified) since 1999. In the process of being certified by QUALITE FRANCE.
Cépage : Pinot Noir
Âge moyen de la vigne : Planted in 1997
Vinification :

As harvest is starting earlier each year due to climate change, it is often necessary to carry out a pre-fermentation cold soak for 5-6 days. Then fermentation occurs in wooden vats for about 10 days where temperatures can rise to 32-34°C. Next maceration takes place for a few days until the temperature in the vats lowers to 20-22°C. Pneumatic pressing, 2 days of settling, and then placing into barrels for 14 to 18 months.

Mise en bouteilles : Unfined and unfiltered (with some exceptions). Level of SO2: 20 mg/l of free SO2 and 60 to 70 mg/l of total SO2